Weekly Newsletter 12.23.2020
Dear Friend,
We wrapped up the final weeks in Congress with important legislation, including a spending package that included additional COVID-19 relief, a defense spending bill to strengthen our national security and a healthcare bill to stop surprise billing. Here is an overview: 
---
Providing COVID Relief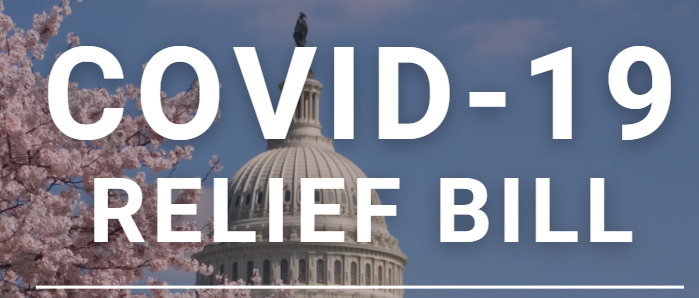 I'm pleased to report that we reached a bipartisan deal to provide additional economic stimulus for the American people. 
The bill includes*:
$120 billion – 
$325billion
$45 billion
$69 billion
$9 billion
$82 billion 
$25 billion
$26 billion 
$10 billion
$10 billion
---
Strengthening national security

Strengthening our national security and keeping our country safe is more important than ever. The bipartisan National Defense Authorization Act the House recently passed takes important steps to ensure the U.S. military remains the strongest in the world, secures a pay raise for our hardworking service men and women, and helps our Vietnam veterans receive the coverage they deserve.
The bill also includes the following provisions: 
Gives troops a pay raise & protects their safety: Authorizes a 3-percent military pay raise, invests in housing improvements for military members and families, and improves sexual assault prevention and response measures. 
Cares for veterans: Adopts an amendment co-sponsored by Rep. Costa that ensures medical coverage is provided to veterans exposed to Agent Orange who have bladder cancer, hypothyroidism, or Parkinsonism medical conditions.
Helps military families: Expands paid parental leave for certain federal civilian employees. 
Responds to the COVID-19 pandemic: Supports a robust international response to the pandemic and urges additional cooperation with our NATO allies.
Addresses removing the names of Confederates from military bases: Establishes an independent commission to examine the names associated with military installations and provides a process to remove those of individuals who voluntarily served the Confederacy during the Civil War.
Encourages diversity: Creates the role of Chief Diversity Officer for the Department of Defense and a Senior Advisor for Diversity and Inclusions for each Military Service.
---
Protecting Valley waterways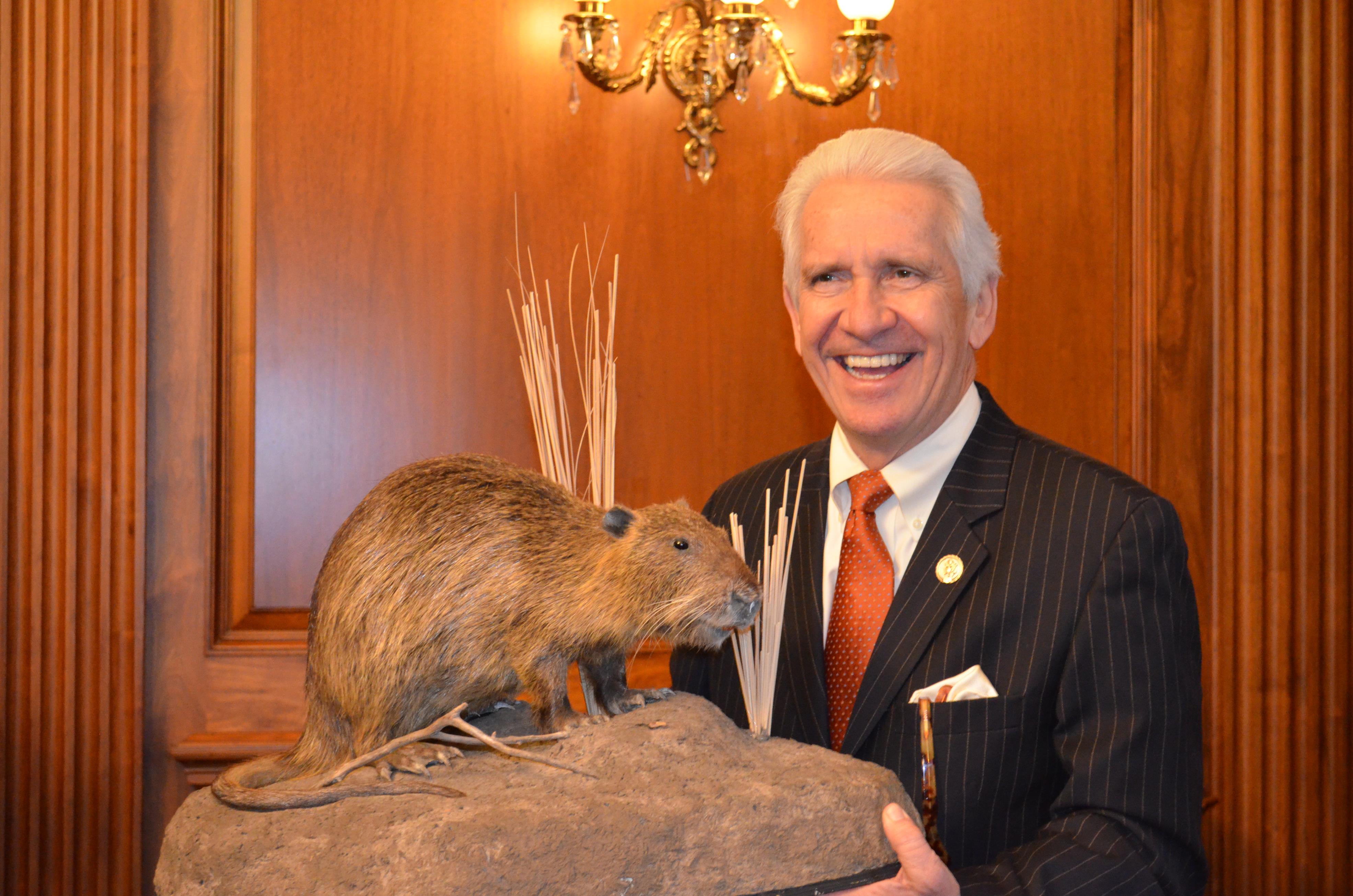 Nutria plague our waterways and cause damage to farms and water infrastructure – an urgent situation that needs attention. I'm pleased the President signed the Nutria Eradication and Control Act, which I co-authored. The law  provides $60 million to help rid our waterways of this pest. Through bipartisan teamwork, we now have the means to solve this problem.
---
Fighting for social justice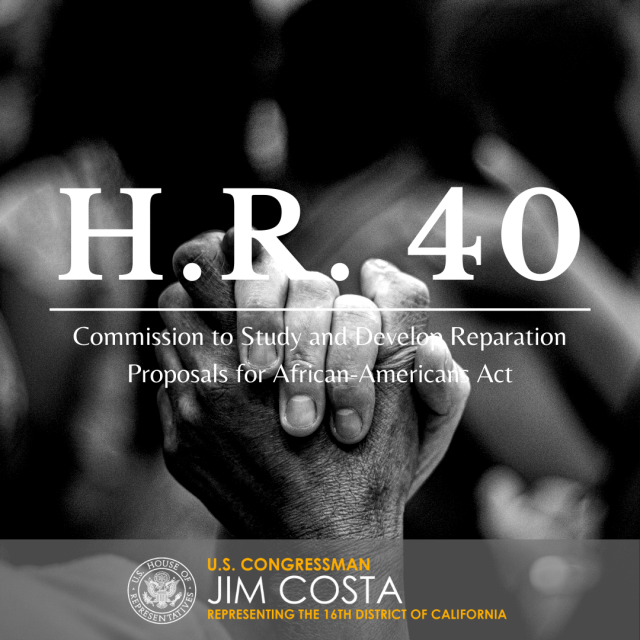 Now is the time to be bold in the face of racial injustice and create meaningful change in our nation. But we need to get it right. That's why I cosponsored legislation to form a commission to investigate the impacts reparations payments would have in the African American community. We've been reminded of the racial fault lines that persist today, and we must do more as a nation to improve social and economic justice for all.
---
Bringing home dollars for the Valley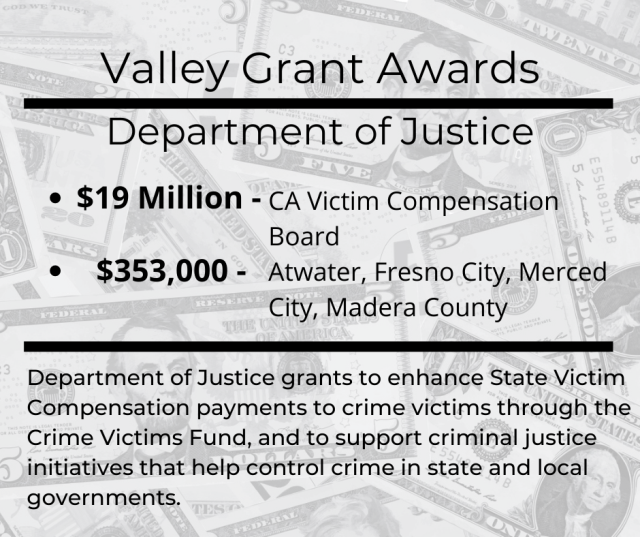 I'm pleased to report that the State of California received $19 million to enhance payments to survivors of violent crime through the Crime Victims Fund. As a co-founder and co-chair of the Crime Survivors and Justice Caucus, I fight to include funding for these grants because they truly make a difference in people's lives. 

The Cities of Atwater, Fresno, Merced, and the County of Madera received Edward Byrne Memorial Justice Assistance Grants (JAG) to support local criminal justice initiatives to help ensure our safety.
---
COVID Update
We are in a dire situation in the San Joaquin Valley, with our hospitals stressed and cases growing. Please follow the state's stay-at-home order and do your part to flatten the curve. With vaccines already arriving in Fresno, Madera and Merced counties, we can start the process of protecting our community. This will take time, and it'll take all of our efforts to turn the corner on this deadly virus.
---
Local COVID-19 Cases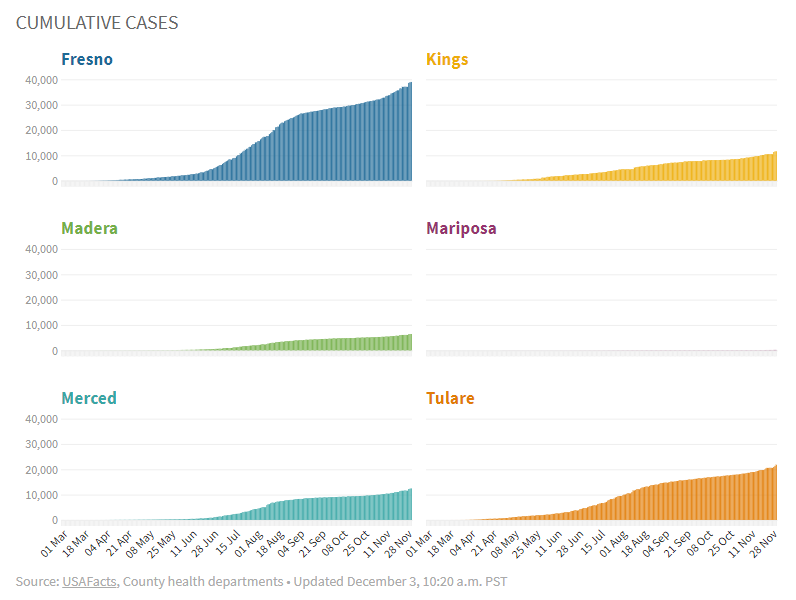 Track recent COVID-19 developments in: 
Find a testing center near you:
---
Resources:
We've compiled all the resources you need in one convenient location on our website.  
If you need specific help from our district office, please submit a request and a member of our staff will contact you. 
---
---
Recursos en Español 
Hemos concentrada toda la información sobre COVID-19 que necesita en un lugar conveniente. 
Visita mi sitio web.
---
FREE MOBILE COVID-19 TESTING

UCSF-Fresno has launched the Fresno COVID-19 Equity Project to increase access to testing and health screenings in underserved areas. All testing is free, but registration is required. 
---
APPLY FOR SUSTAINABLE GROUNDWATER MANAGEMENT GRANT
 

From now through Friday, January 8, 2021 the Department of Water Resources is accepting applications for the Sustainable Groundwater Management grant program. For more information visit their website or contact staff at SGWP@water.ca.gov. 
---
---
TIME TO RENEW YOUR INDIVIDUAL TAXPAYER ID!

At the end of the year some individual taxpayer identification numbers (ITIN) will expire. Taxpayers with expiring ITINs must renew their ID number with the IRS before the end of the year. 
---
Stay strong and we will get through this crisis. Please don't hesitate to contact my office if you need assistance.
Sincerely,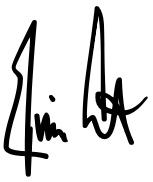 Jim Costa
Member of Congress
Click here to subscribe to my e-newsletter
8.5.5